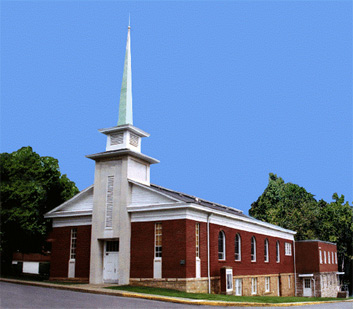 Welcome to the United Methodist Church of Fayetteville, WV
Our Vision
We seek to bring others into the family of God by
Loving, Serving, Witnessing
and following Christ where he leads us on our spiritual journey.
We invite you to worship with us.
Sunday School – 9:45 AM
Sunday Morning Worship – 11:00 AM
Timothy D. Bleigh, Pastor
"shiny gods" series
May 28, 2017
First Scripture Lesson: Philippians 1:3-11
Second Scripture Lesson: Joshua 4:1-9, 19-24
Sermon: "Remembering All God has Done"
Theme Question: Are we actively telling and sharing of God's faithfulness to our children?
Announcements
Sunday
9:30 AM The Gathering (breakfast) in Friendship Hall
9:45 AM Sunday School
11:00 AM Worship
5:30 PM Agape Meal
6:30 PM Bible Study
Tuesday
10:30 AM Bible Study
7:00 PM TLC
Wednesday
9:00 AM Set Up Food Pantry
7:00 PM LMI
Thursday
10:00 AM Food Pantry
Sunday
9:45 AM Sunday School
11:00 AM Worship
6:30 PM Bible Study
Pastor's Message
Upcoming Events
Next Chili Feed:
Thursday, June 8, 2017
Free to the public come and join us!
White Bean Chicken Chili from Cathedral Café. 
Get connected:
120 High Street
P.O. Box 87
Fayetteville, WV
(304)574-0187 (office)
(304) 574-2899 (fax)
fayettevilleumc@frontier.com